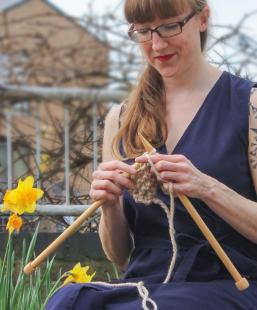 After studying fashion design with knitwear at Central Saint Martins college, I began to hoard yarn and a range of knitting machines. I love textiles and technical challenge of knitting. There is real joy in producing something both useful and beautiful. I am happy to discuss commissioned knitting and am constantly creating new patterns and combinations of texture and colour. I love to see new knitters taking to the needles and teach a range of hand and machine knitting classes.
Please note: I have downsized my studio and no longer have knitting machines available for rental.
Please feel free to email me at the address below with any queries or comments. I try to respond to queries as soon as I can, but there is also help to be found in the EastLondonKnit Ravelry group. Happy knitting!
Ravelry: EastLondonKnit
instagram: @eastlondonknit
email: info [at] eastlondonknit [dot] co [dot] uk